Sushi and other Japanese Delicacies with Klaar
Where:
Soukenická 23
110 00, Praha 1


Language:
Čeština


Price:
1 990 Kč


Course Program
1) Polévka
Miso – polévka s wakame, tofu nebo rybou a jarní cibulkou
2) Předkrmy
edamame – horké zelené sojové fazole s mořskou solí
Gyoza – japonské knedlíčky vařené v páře, plněné mletým hovězím masem
3) Sushi
Makisushi
hosomaki (malá rolka s jednou ingrediencí) – kappa, takuwan, tekka, sake, surimi
uramaki (rolka "naruby") – California, losos, Philadelphia
Nigirisushi – ručně tvarované rýžové "polštářky" doplněné nejrůznějšími druhy ryb nebo zeleniny
gunkan – ručně tvarovaný rýžový ovál s různými druhy rybích jiker
V Ceně Kurzu Jsou Zahrnuty
veškeré ingredience
elektronické recepty
nealkoholické nápoje (juice, voda, káva, čaj)
sklenka vína
úklid studia v průběhu vaření a po něm
zapůjčení zástěr
About Course
Course length:
3 hours
This is a great class, full of tricks and tips. Learn how to prepare perfect sushi rice, and  how to roll the most delicious styles of Sushi. Klaar will guide you on how to make the perfect sushi. And not only that, in this course, you will also prepare your own Miso soup and delicious Gyoza!!! Come and have fun while learning many tricks of the Japanese cuisine
Sushi, Aisian Klaar is a youg and energetic chef that started her career in Iceland where she learned and mastered Japanese cuisine (including of course sushi) directly from a Japanese chef. Klaar returned to Prague and has been working in many interesting culinary projects.
Chef's profile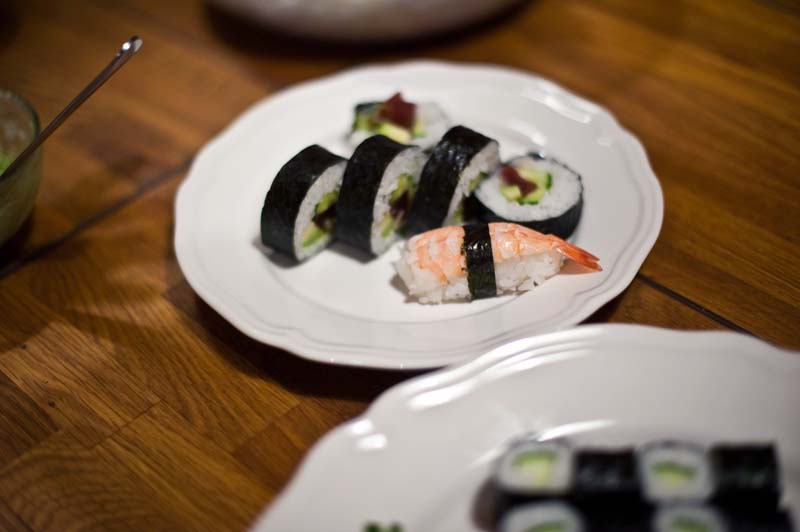 Miso soup
Beef Gyoza
Edamame
Various Sushi rolling (maki, nigiri, California and more)
WHAT DOES IT INCLUDE?
All ingredients
dedicated chef
unlimited soft drinks (juice, water, coffee, tea)
wine tasting
hostess-cleaning before,during and after the course
aprons lending
online recipes
---
Reservation
Unfortunately, the course capacity is full.